SketchUp is a 3D modeling software that is easy to use and has a large database of user-created models available for download. You can use SketchUp to create 3D models of buildings, furniture, interiors, landscapes, and more. SketchUp also has many features that make it a powerful and versatile tool for design and visualization. In this section, we will give you an overview of the main features of SketchUp and how they can help you with your 3D modeling projects. Some of these features are:
Interoperability: SketchUp can import and export many different file formats, such as DWG, DXF, OBJ, STL, FBX, and more. This allows you to work with other software and tools in your design workflow. You can also use SketchUp to collaborate with other users online and share your models with the world.
Extensibility: SketchUp has a built-in Extension Warehouse that lets you access and install thousands of extensions and plugins that add functionality and features to SketchUp. You can also create your own extensions using the SketchUp API. Extensions can enhance SketchUp in various ways, such as adding new tools, rendering engines, animation options, and more.
Objects: SketchUp has a library of predefined objects that you can use in your models, such as doors, windows, furniture, plants, and more. You can also customize the objects by changing their properties, such as size, color, material, and layer. You can also create your own objects using the drawing and editing tools in SketchUp. Objects can be grouped into components that can be reused and edited easily.
Search Feature: SketchUp has a search feature that helps you find and activate native commands and installed extensions quickly. You can type keywords or phrases in the search box and see the matching results in a drop-down menu. You can also use voice commands to search for tools and commands in SketchUp.
Angular Dimension: SketchUp has a new feature that allows you to measure and display angles in your models. You can use the Angular Dimension tool to create angular dimensions between edges, faces, or guide lines. You can also customize the appearance and style of the angular dimensions.
Layout: SketchUp has a companion application called Layout that lets you create professional 2D presentations from your 3D models. You can use Layout to add dimensions, annotations, labels, title blocks, and other elements to your drawings. You can also export your drawings to PDF or image formats for printing or sharing.
Style Builder: SketchUp has another companion application called Style Builder that lets you create custom styles for your 3D models. You can use Style Builder to apply different strokes, textures, colors, and effects to your models. You can also import your own sketches or images to create unique styles.
These are some of the main features of SketchUp that make it a great software for 3D modeling. You can learn more about SketchUp and its features by visiting its official website or reading its help articles. In the next sections, we will go into more detail about the interface, functionality, applications, comparisons, tutorials, pricing, reviews, verdicts, updates, and future perspectives of SketchUp. Stay tuned!
In-Depth Analysis of SketchUp Interface
SketchUp has a user-friendly and intuitive interface that allows you to access and use its tools and features easily. The interface consists of several elements that help you create and modify your 3D models. Some of these elements are:
Toolbar: The toolbar is located at the top of the SketchUp window and contains icons for the most commonly used tools and commands. You can customize the toolbar by adding or removing icons, changing their order, or creating your own tool sets. You can also access more tools and commands from the drop-down menus on the toolbar.
Status Bar: The status bar is located at the bottom of the SketchUp window and displays information and tips about the current tool or command. You can also use the status bar to enter coordinates, lengths, angles, or other values for your model. The status bar also shows the number of faces, edges, components, and groups in your model.
Instructor: The instructor is a panel that appears on the right side of the SketchUp window and provides context-sensitive help and guidance for the current tool or command. You can use the instructor to learn how to use a tool or command, see examples, watch videos, or access related help articles.
Tray: The tray is a set of panels that appears on the right side of the SketchUp window and contains various options and settings for your model. You can use the tray to adjust the properties of your model, such as materials, styles, layers, scenes, shadows, fog, etc. You can also use the tray to manage your extensions, view your model statistics, or access the 3D Warehouse.
Modeling Window: The modeling window is the main area where you create and edit your 3D models. The modeling window has a 3D view that shows your model from different perspectives. You can use the navigation tools to zoom, pan, orbit, or walk around your model. You can also use the drawing and editing tools to create and modify your model. The modeling window also has a 2D view that shows your model from a top, front, or side view. You can use the 2D view to measure, align, or snap your model.
These are some of the main elements of SketchUp interface that make it easy and fun to use. You can learn more about SketchUp interface by visiting its official website or reading its help articles. In the next sections, we will explore more about the functionality, applications, comparisons, tutorials, pricing, reviews, verdicts, updates, and future perspectives of SketchUp. Stay tuned!
Installation and Setup
Installing SketchUp on your system is a straightforward process. Visit the SketchUp website and navigate to 'Download'. Choose the appropriate version for your operating system (Windows or MacOS) and proceed.
System Requirements
Your system must meet certain requirements to ensure a seamless SketchUp experience. For Windows, you should have at least a 1 GHz processor, 4GB RAM, and 500MB of hard disk space at your disposal. If you are on MacOS, a 2.1+ GHz processor, 4GB RAM, and 500MB of free hard disk space would suffice. Apart from these, having a 3D-class graphics card that supports DirectX 9.0c or above will significantly enhance your experience with SketchUp.
Setup Tips
Once you have downloaded the installer, double-click it to execute. Follow the onscreen instructions, agree to the terms and conditions, and choose your preferred language. Go through the customization options if you want a specific location for your installation, else you can stick with the default option. The last step involves clicking on 'Install'. The setup will commence and in a few minutes, you would be ready to embark on your SketchUp journey.
Always make sure to constantly update your software for optimized usage and to leverage its latest features.
User Interface (UI)
The user interface of SketchUp is renowned for its simplicity and intuitiveness, garnering appreciation from both beginners and seasoned users. It sports a clean, uncluttered interface, designed with ease-of-use in mind. The default view presents the workspace where the designing takes place, and surrounding it are various palettes and toolbars.
Design and Layout
SketchUp's interface follows a minimalist design principle. Every tool and feature is strategically placed to simplify the workflow and to avoid overwhelming the user. The workspace is the largest area in the center, where 3D models are created and manipulated.
Navigation
On the top, there's a standard menu bar with options like File, Edit, View, etc, similar to most other software applications. To the left is the toolbar for essential tools, such as Move, Rotate, Scale, and others. The default toolbar can be customized according to user preferences for an enhanced experience. On the right, there are trays that house various Palette options like Materials, Components, Styles, and Scenes.
User-friendliness
One of SketchUp's biggest selling points is its user-friendliness. Whether one is drawing simple shapes or abstract architectures, the icons and tool options are self-explanatory and easy to comprehend. Its 'Push and Pull' function, for example, is a unique tool that allows designers to extrude 2D surfaces into 3D forms intuitively, making the modeling process quite straightforward.
Recent Updates
SketchUp's latest version, SketchUp Pro 2021, brought significant UI improvements. 'Tag Folders and Tag Filtering', added for better organization, helps users manage and sift through complex models more efficiently. The 'Live Component' feature in the 3D Warehouse dialog allows user interaction with parametric objects. The 'Model Info' dialog box was also enhanced, providing users with comprehensive details about their current project.
Further, PreDesign, a new climate-first tool was introduced to give you insights about your project environment, helping you make design decisions even before you start modeling. With better model organization and context insights, SketchUp Pro 2021 significantly enhances user-friendliness.
SketchUp, with its commitment to user-centric design, seamless navigation, and constant UI improvements, continues to lead the pack when it comes to intuitive 3D modeling software.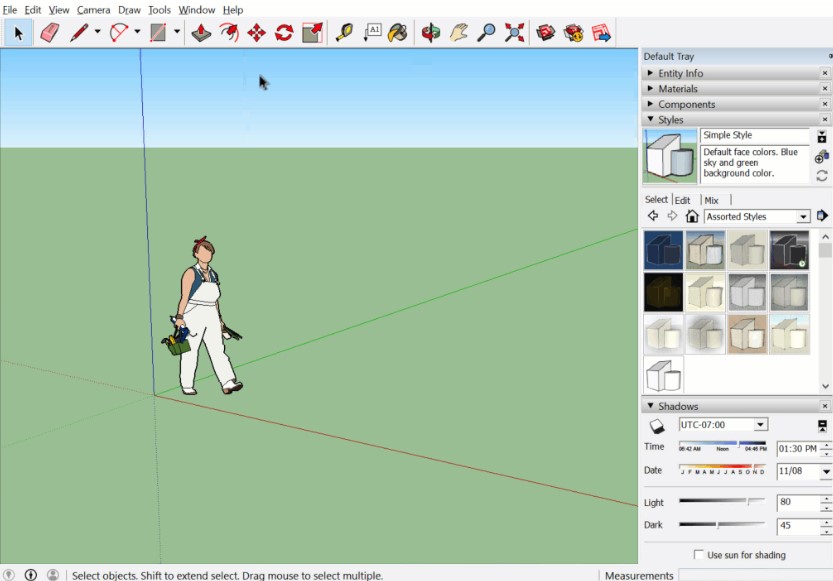 Features and Functionality
The performance of SketchUp lies in its extensive features and functionalities which facilitate creating precise and detailed 3D modeling. Below are some of the significant features, which altogether make SketchUp a stand-out tool in architecture and design.
3D Warehouse
SketchUp's 3D Warehouse is a unique feature that opens up an extensive community-filled library of free 3D models. Architects and designers, regardless of their levels of expertise, can leverage this feature by either uploading their designs or downloading available models for inspiration or transformation.
Push and Pull
This intuitive tool lets you draw 2D shapes and push or pull them into 3D objects. This feature is perfect for quickly creating geometric models or complex architectural structures. Its simplicity and effectiveness save tremendous time and effort.
Accurate measurements
SketchUp excels in providing precise dimensions, making it an indispensable tool for professionals who need to stick to exact measurements. Whether it's drawing lines, forming arches, or adjusting angles, you can incorporate an extremely accurate set of dimensions into your designs, thereby increasing the reliability of your work.
Integration with Google Earth and Maps
SketchUp seamlessly integrates with Google Earth and Google Maps, allowing users to incorporate real-world locations into their projects. This not only adds realism to your projects but also allows for site-specific modeling.
Layout
Layout is a versatile tool that enables users to turn their modelling into drawings and design documents. From drafting to presentation slides, Layout assists you in producing professionally finessed graphical work that is consistent with your 3D model.
Style Builder
Style Builder provides creative freedom for users, allowing them to customize their models' aesthetics. From visualizing it in sketchy outlines to different shading modes, users can stylize their models according to their needs and preferences.
Each feature that SketchUp encompasses plays a role in aiding users to create models that are accurate, visually appealing, and harmoniously in line with real-world measurements. Its simplicity coupled with its array of tools and functionalities makes SketchUp an exceptional platform for 3D modeling and presents affirmative implications for architects and designers alike.
Performance
SketchUp's performance is characterized by its speed, efficiency, and responsiveness. The software is engineered to work seamlessly even with complex models, thanks to its powerful rendering capabilities. Changes and modifications are executed almost instantly, keeping lag to a minimum. This speed and efficiency are critical in a professional environment where time-saving is paramount.
Resource Utilization
Another impressive aspect of SketchUp is its optimal resource utilization. Even while running demanding tasks, the software manages to maintain system stability, making it a reliable tool for all kinds of systems. Whether you're using a high-end workstation or a regular laptop, SketchUp manages to provide a smooth, lag-free designing experience.
Performance Improvements
With every update, SketchUp strives to rectify past issues and enhance overall performance. The latest version is built on this principle. Incorporating feedback from users, SketchUp has optimized scenes for better performance, enabling more considerable frames per second and smoother navigation in large models.
In real-world scenarios, these performance features provide a seamless working experience, enabling experts to bring their intricate, detailed models to life without worrying about the software slowing them down or causing system instability.
Customization and Settings
SketchUp offers a broad range of customization options and settings, allowing users to tailor the software to their unique workflows and requirements. Understanding these options can elevate your SketchUp experience to a new level.
Toolbar and Interface Customization
You can personalize SketchUp's interface according to your preference and project needs. The toolbar can be rearranged, icons can be added or removed, and additional toolbars available in the software can be included in the workspace. This way, users can keep their frequently used tools handy and make their workflow more efficient.
Shortcut Keys
SketchUp allows users to assign shortcut keys to their favorite tools. This-setting offers a faster way to access tools, thereby saving time and improving productivity.
Styles and Templates
Users can also customize the visual outlook of their models using the Style Builder. Additionally, SketchUp offers numerous pre-designed templates. These can be customized and saved for future use, creating a consistent style for all your designs.
Recent Updates
In the recent update, SketchUp 2021, users are now allowed to manage and organize tags more effectively with Tag Folders and filtering, offering a higher level of customization.
Thus, SketchUp extends a high degree of customization that enables users to create and manage their projects more effectively and efficiently.
Compatibility
SketchUp is known for its extensive compatibility and adaptability across various platforms and devices, allowing users to access and work on their projects from almost anywhere.
Desktop Compatibility
SketchUp runs on both Windows and MacOS. The desktop application is compatible with Windows 10 and 8.1, and for Mac users, it runs smoothly on MacOS 10.16 (Big Sur) down to MacOS 10.14 (Mojave). The system requirements vary depending on the edition of SketchUp, with the Pro version typically requiring slightly higher specifications for optimal performance.
Web-Based Compatibility
Beyond the desktop application, SketchUp also provides a web-based version, SketchUp for Web. This allows you to work on your projects directly in your browser, making the software accessible from any device with an active internet connection. It's compatible with most modern browsers like Chrome, Firefox, Safari, and Edge.
Mobile Compatibility
SketchUp Viewer is available as an app on iOS and Android devices, providing the ability to view and present your SketchUp models on the go, which is especially handy for site visits or client meetings.
In conclusion, SketchUp's wide-ranging compatibility ensures users never have to worry about accessing their 3D designs, no matter what platform or device they are using.
Support and Documentation
SketchUp values its users and to ensure their journey with the software is smooth and hassle-free, it offers a variety of support options. The SketchUp website has a dedicated 'Support' section that provides detailed answers to a myriad of queries users might have.
Customer Support
Users can contact the SketchUp team directly via email or live chat for assistance. Moreover, there are forums where professionals and SketchUp enthusiasts share their expertise and solutions to common problems. The support is efficient, prompt, and resourceful.
Documentation
SketchUp provides extensive documentation for each version of its software. These are concentrated guides providing insights into all of SketchUp's features and functions which are very helpful for new users.
Tutorials
The software also has numerous video tutorials available on their website and YouTube channel. These tutorials range from basic setup instructions to advanced features and techniques, making it a go-to resource for everyone from novices to professionals.
FAQs
For quick assistance, users can turn to the FAQ section. These cover a spectrum of topics from 'Getting Started' to 'Troubleshooting', addressing commonly asked questions and providing quick solutions.
Price and Licensing
SketchUp provides a range of price plans tailored to cater to different user needs and budgets. The Basic plan is free, offering limited features ideal for beginners. The Pro plan, priced at $299 per year, is designed for professional usage with full features and capabilities. For businesses and enterprises, SketchUp provides custom plans offering multi-user licenses and volume discounts.
Free Trial
SketchUp offers a 30-day free trial of its Pro version, perfect for those wishing to familiarize themselves with the software before committing to a paid plan. The trial provides full access to all Pro features, giving users a true taste of the software's capabilities.
Discounts
There are student and educator discounts available to promote learning and innovation. SketchUp also offers attractive discounts during seasonal sales and to non-profit organizations.
Here is a table outlining the pricing options for SketchUp:
| Plan | Price | Features |
| --- | --- | --- |
| SketchUp Free | Free | Web-based 3D modeling |
| SketchUp Shop | $119/year | Web-based 3D modeling, unlimited cloud storage, AR/VR viewer |
| SketchUp Pro | $299/year | Desktop 3D modeling, LayOut for 2D documentation, unlimited cloud storage, AR/VR viewer |
| SketchUp Studio | $1,099/year | Desktop 3D modeling, LayOut for 2D documentation, unlimited cloud storage, AR/VR viewer, Trimble Connect for collaboration |
The pricing information is sourced from the official SketchUp website.
To help you decide which plan is best for you, here are some factors to consider:
Usage: If you're a beginner or just want to try out the software, SketchUp Free might be a good option. If you're a professional or need more advanced features, consider SketchUp Shop or SketchUp Pro.
Platform: If you prefer working on a desktop application rather than a web-based one, then SketchUp Pro or SketchUp Studio might be better suited for you.
Collaboration: If you work in a team and need to collaborate on projects, then SketchUp Studio might be the best option as it includes Trimble Connect for collaboration.
Pros and Cons
Pros:
Easy to Use: SketchUp's user-friendly interface makes learning and navigation a breeze, even for beginners. With its intuitive design and simplified toolsets, creating 3D models has never been so accessible.
Extensive Library: SketchUp boasts a large repository of pre-made models in its 3D Warehouse, saving users time and effort.
Interoperability: The software's compatibility with various other designing and CAD software enhances its versatility and functionality.
4. Customizability: With SketchUp, users have the freedom to customize their workspace according to their requirements and preferences.
Real-Time Visualization: SketchUp's real-time visualization feature allows for immediate reflection of changes, facilitating effective design iterations.
Cons:
Limited Features in Basic Version: The free version of SketchUp is quite restricted in its capabilities, making it less appealing for professional work.
Rendering Quality: The rendering capabilities of SketchUp may not match up to the quality of some high-end software, which might be a deterrent for some users.
Performance with Complex Models: SketchUp may experience lag or slow down when handling very complex models or when used on systems with limited resources.
Getting Started with Sketchup
Here are some great SketchUp tutorials for beginners found on YouTube:
Getting Started with SketchUp in 2021 – Part 1 – BEGINNERS START HERE! (Desktop Version Tutorial) by TheSketchUpEssentials: This tutorial series is designed to help you get started using the desktop version of SketchUp. It covers topics such as navigating the interface, creating basic shapes, and using the push-pull tool. You can find the video here.
GETTING STARTED with SketchUp Free – Lesson 1 – BEGINNERS Start Here! by TheSketchUpEssentials: This video introduces you to using SketchUp's free online modeling tool – SketchUp free. It covers how to get started, how to navigate, and how to start creating 3D models all for free inside of SketchUp. You can find the video here.
Getting Started with SketchUp in 2021 Part 2 – MODELING A HOUSE! Desktop Version Beginner Tutorial! by TheSketchUpEssentials: This tutorial will cover things like extruding to 3d, drawing walls and roofs, adding materials, and more! You can find the video here.
I hope you find these tutorials helpful!
Conclusion
SketchUp serves as a comprehensive 3D modeling software that successfully bridges the gap between creativity and technology. Its simplicity, extensive features, and the ability to provide real-time visualizations earns it a high rank in the architectural software landscape. Although the free version is limited and the software may falter slightly with heavy models, the strengths far outweigh these drawbacks. For those seeking user-friendly yet powerful 3D design software, SketchUp comes as a highly recommended solution. Its versatility makes it suitable for both professionals in the architectural field and enthusiasts looking to explore 3D modeling. Overall, the value that SketchUp brings to the table makes it a worthwhile investment.